Backstory
When I was starting out as a freelancer, I learned relatively quickly that I was making significantly more money that I technically "needed" to cover all of my expenses. This is true for many freelancers in general, particularly for those in the service industry where a decent laptop and a company car are pretty much the only real investments you need to make to keep your business up and running. Naturally, it didn't take long for me to start slacking off a bit when it came to working. I started taking vacation days every now and again, even if I didn't need to and I worked less hours on the days I was actually working. It's not like I wasn't doing my job or that I went completely overboard with it, but I leveraged my flexibility as much as I could in order to focus on other, more interesting pursuits.
Not long after that though, there was a significant change in my life. Suddenly I was single again and my girlfriend moved out into her own place, taking half of our shared belongings and her monthly income with her to start anew. I myself stayed behind with the house we bought as well as the mortgage payments that came with it. Needless to say, money was suddenly a lot more tight than it had ever been, and it became that much more important to work as many hours as I possibly could and only take days off when I could actually afford to do so.
But how do you know how much time off you can afford? I honestly had no idea how to answer that question. I had a rough idea of how many hours of work I needed to perform, and I also knew how many hours I had worked at any given time but there was no way to know whether or not it was "enough". The problem here is that you can't simply rely on your bank account because some expenses (e.g. insurance payments) are charged only once per quarter or per year and there can always be unexpected costs that need to be taken into account. Additionally, not every month is the same: if you work less during one month due either illness or vacation (or a combination thereof), you need to make sure that you make up for lost time in the subsequent months.
Faced with these and other questions, and with no way of determining the answer in an easy and straightforward way, I decided to come up with a way to keep myself on track and to make sure I would never run into any serious financial problems. I called it the Proactive Revenue Dashboard (PRD), and ever since it's conception in 2018, it has been the primary tool that I have used to monitor my personal and professional financial progress.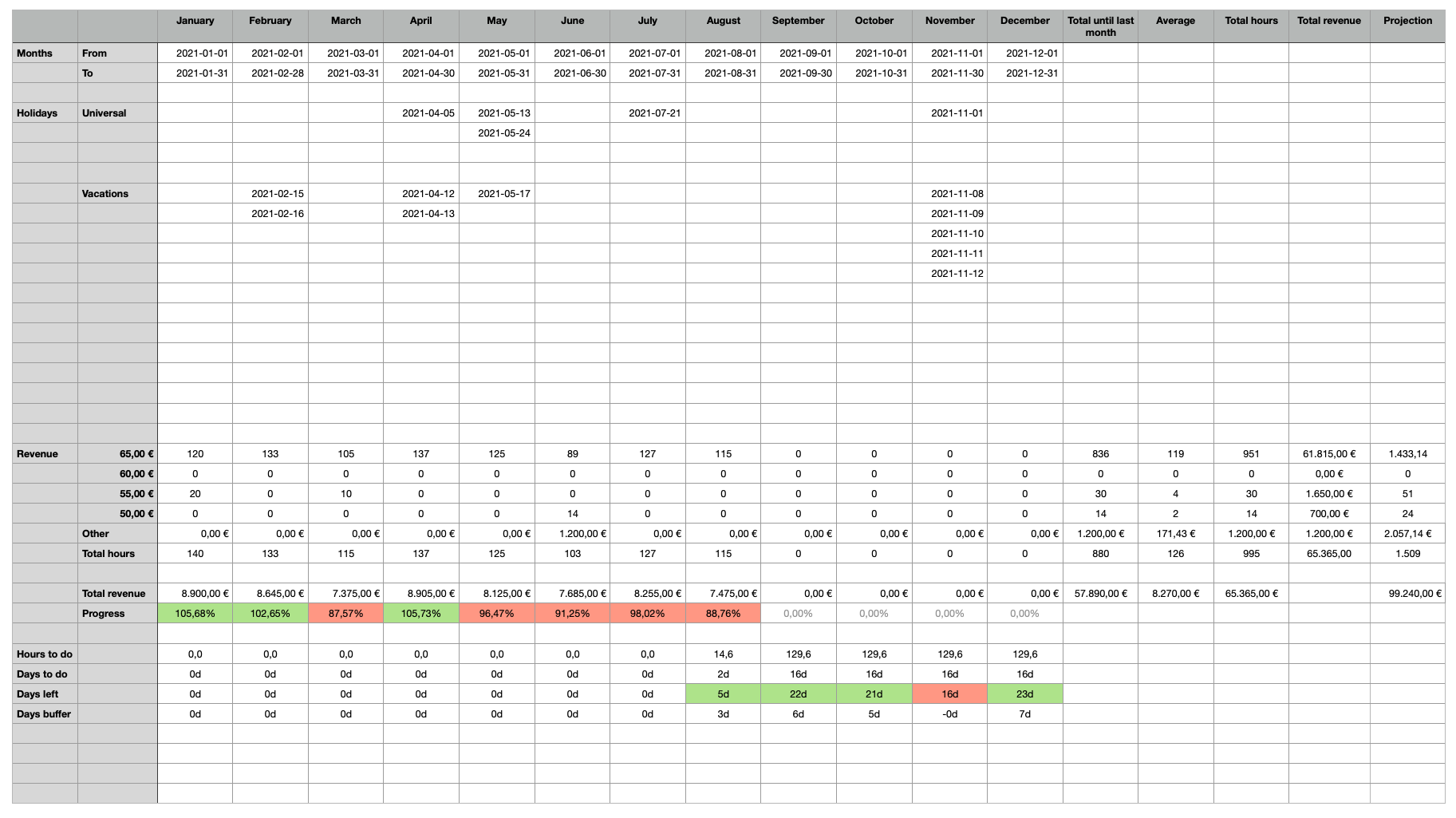 As most readers will notice, the PRD is, at it's core, nothing more than a simple spreadsheet that is set up to make certain calculations and provide us with helpful insights into our financial situation.
How should I read this?
Hopefully, by now it's more or less clear for everyone what the overall point is of the PRD, but I still think it's a good idea to add a quick overview of the things you can learn at a glance from this document, once you've filled out all the details correctly.
While the PRD does also include yearly overviews of both revenue and time, I have found that I tend to focus on my monthly progress much more often. This is largely due to the fact that it is much easier to focus on smaller parts than a larger whole but also because my yearly goals will automatically be accomplished if I manage to achieve all my monthly goals individually.
For me personally, the scheduling overview is the single most valuable piece of information I can retrieve from this document. It allows me to easily break down my massive, yearly revenue goal into smaller, monthly bits and tells me exactly how many hours I still need to work in order to accomplish the goal I have set for myself. This overview gives me incredible peace of mind since it tells me exactly where I am in any given month, as well as the year as a whole.
That, in effect, is the true purpose of this revenue dashboard: to give you as a freelancer an accurate estimation of the amount of time you can take off of work to spend on your yourself, your hobbies, your significant other or your family, without thereby endangering your personal and professional financial situation.
Where can I find it?
So: did you like what you have seen so far? Do you want to get your hands on your own copy and use it for yourself in your own business? That's great, because there is a way for you to do exactly that! The blank template for the Proactive Revenue Dashboard that I use for myself can be bought and downloaded via the AppSumo marketplace. Once downloaded you will of course have to modify it to match the current year, your revenue goals and your personal rates. After that, you can enjoy all the advantages that I have described above and comfortably plan your vacation days without having to worry about your revenue streams.